Cathedral at Noon
Intuitive Music Aberdeen
Saturday 3 June 2023 • 12 noon
St Andrew's Cathedral • 28 King Street • ABERDEEN • AB24 5AX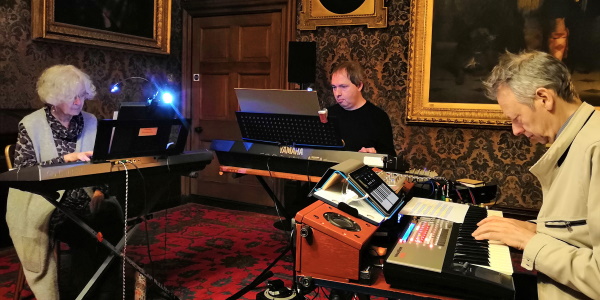 Intuitive Music Aberdeen at Leith Hall, 2019 (Photo by Naiara Carabias)
Admission free – donations welcome
Buffet lunch to follow
Programme
Haworth Hodgkinson
Bennachie Sketch (2019)
First Aberdeen performance
Haworth Hodgkinson
An Odd Pavan (2023)
World premiere performance
Intuitive Music Aberdeen is pleased to return for another lunchtime recital at St Andrew's Cathedral, presenting two pieces by Haworth Hodgkinson.
Bennachie Sketch received its world premiere performance at Leith Hall in 2019. This is its first Aberdeen performance, postponed from March 2020. The piece invites us to imagine spending 24 hours in the Forest of Bennachie, from 6am to 6am, although in performance 24 hours are compressed into about 24 minutes. The music calls for piano and two (electronic) organs, and all three players get to play each instrument.
The programme ends with a short new piece called An Odd Pavan. In 2023 we mark the 100th anniversary of the births of György Ligeti and Ivor Cutler, plus the 400th anniversary of the death of William Byrd. An Odd Pavan is our oblique nod to the influence of these three figures.
Performers
Haworth Hodgkinson (keyboards and melodica)
Mandy Macdonald (keyboards)
Colin Edwards (keyboards and percussion)
Venue

St Andrew's Cathedral • 28 King Street • ABERDEEN • AB24 5AX
Links
St Andrew's Cathedral Aberdeen