Time and Tide
Solstice Shorts Festival 2019
Saturday 21 December 2019 • 12 noon
Symposium Coffee House Lido • Scottish Maritime Academy • South Road • PETERHEAD • AB42 2UP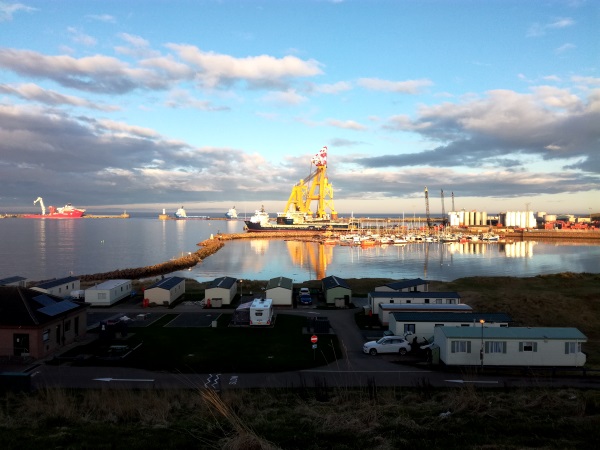 Admission free
Now in its sixth year, the Solstice Shorts festival once again marks the shortest day of the year with stories, poetry and music performed live at multiple sites.
This year our theme is Time and Tide – stories and poems of making a living on or beside the water, and making new lives over the water, immigration, emigration, diaspora....
Events are taking place in port cities and towns, either on coasts or on tidal rivers: Peterhead and Clydebank (Scotland), Holyhead (Wales), Maryport, London and Hastings (England), and Lisbon (Portugal). Each event is run by a local promoter, and overall coordination of the festival is by Arachne Press in London. The Peterhead event is presented by Intuitive Music Aberdeen and promoted by Artventure.
If you can't attend in person, you can watch a live stream of the event on our Facebook page.
An anthology of the poems and stories will be published in spring 2020 by Arachne Press.
The music is based on Dundee Ambient, Part 5: Winter Solstice Again by Haworth Hodgkinson, which is available on the High Moss label.
Programme
Poems by Simon Whitfield, Christine Ritchie, John Richardson, Mandy Macdonald, Sarah Tait, Claire Booker, Jane Aldous, Ian Macartney, Olivia Dawson, Elizabeth Parker, Joy Howard and Elinor Brooks.
Stories by Paul Foy, Roppotucha Greenberg and Linda McMullen.
The poems and stories will be interspersed with intuitive music in response to the Solstice Mode from Dundee Ambient by Haworth Hodgkinson, played by the ensemble Intuitive Music Aberdeen.
Performers
Readers
Musicians
Haworth Hodgkinson (recorder, melodica, percussion and fixed media)
Mandy Macdonald (melodica)
Colin Edwards (bowed psaltery)
Venue

Symposium Coffee House Lido • Scottish Maritime Academy • South Road • PETERHEAD • AB42 2UP
Time and Tide in Peterhead is presented by Intuitive Music Aberdeen in association with Artventure and Arachne Press, and is supported using public funding by Aberdeenshire Council and Arts Council England.
Links
Symposium Coffee House
Artventure
Arachne Press
High Moss
Aberdeenshire Council
Arts Council England