Bennachie Sketch and Drostan's Calendar
Two pieces by Haworth Hodgkinson
Saturday 12 October 2019 • 7.30pm
Leith Hall • Kennethmont • HUNTLY • AB54 4NQ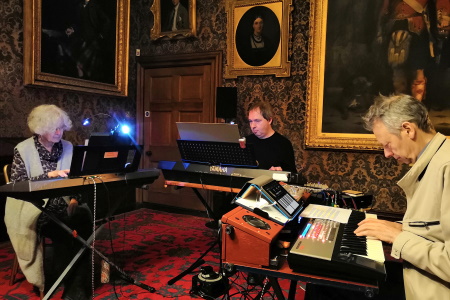 Review by Liz Knowles
Photo by Naiara Carabias
On Saturday, I had the pleasure of attending a concert by Intuitive Music Aberdeen in the intimate but sumptuous surroundings of the music room at Leith Hall. The three musicians, Haworth Hodgkinson, Mandy Macdonald and Colin Edwards, performed two pieces by Haworth Hodgkinson, Bennachie Sketch and Drostan's Calendar.
Bennachie Sketch (which was premiered at this concert) presents an aural image of Bennachie over a twenty-four hour period, compressed into twenty-four minutes. The three performers took turns to play the piano, which took the dominant role, and two keyboards, switching between instruments while maintaining a continuity of sound, and improvising in accordance with a previously agreed schema. The piece itself is a haunting evocation of the Bennachie landscape. The main musical motif, a simple modal figure played rising or falling, was passed between the musicians over a drone-like pedal note, giving an effect reminiscent of distant bagpipes. The music changed subtly from one mode to another with each representing three hours of the day.
Drostan's Calendar involved three keyboards, again played in an improvisatory manner within a pre-ordained structure. The sonic backdrop to the piece was a recording of the sound of waves and seabirds in successive months of the year. Melodic motifs were interwoven over this background, with the musical texture, sparse to begin with, becoming more intricate in the middle of the piece, representing the summer months. As with Bennachie Sketch, the use of different modes conveyed a range of moods from serene to tragic, and at times hinted at danger and menace. I found myself speculating on what Drostan's thoughts and feelings might have been on arriving in this beautiful but, to him, alien place.
This was a thoroughly enjoyable concert, well received by the small but very appreciative audience, and I look forward to hearing Intuitive Music Aberdeen again.
Links
Leith Hall
Live Life Aberdeenshire
Sound Festival
Haworth Hodgkinson