Intuitive Music at Newton Dee
Music by Haworth Hodgkinson
Sunday 22 July 2018 • 4pm
Phoenix Centre • Newton Dee Village • Bieldside • ABERDEEN • AB15 5DX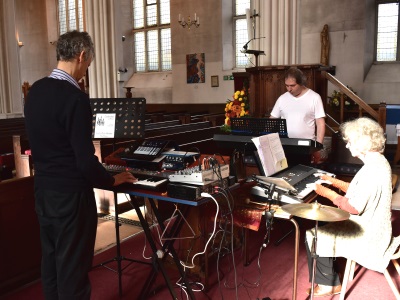 Admission by donation
Programme
Haworth Hodgkinson: Freak Out (2016)
Haworth Hodgkinson: South Breakwater (2016)
Haworth Hodgkinson: Prime Rant (2018)
Haworth Hodgkinson: Summer Solstice (abridged) from Dundee Ambient (2016/2018)
Poems read in Summer Solstice
Mandy Macdonald: Noctilucence
Haworth Hodgkinson: Seasonal
Catriona Yule: The Question
Catriona Yule: Sundial
Mandy Macdonald: Redcurrant Thief
Haworth Hodgkinson: Red Nocturne
This programme brings together four pieces by Aberdeenshire-based composer Haworth Hodgkinson. Each piece provides the performers with a single page of text instructions, from which they must realise their version of the piece as they play it.
The opening piece, Freak Out, needs little introduction, except to say that the performers should be as surprised by what happens as the audience will be.
South Breakwater is a slow and gentle piece for multiple keyboards, which takes its name from a pier that protects Peterhead harbour. This piece should ideally be played on keyboards tuned in 19-tone equal temperament, but for technical reasons today's performance uses conventional 12-tone tuning. You can hear a 19-tone version on Haworth Hodgkinson's album Lanterns, available on the High Moss label.
Next comes Prime Rant, which gives us a chance to play in some odd rhythms. The piece is mostly in 13 beats to the bar, but for one section we slip into 11 beats and for another we play in a 17-beat rhythm.
The programme ends with Summer Solstice, in which poetry by Catriona Yule, Mandy Macdonald and Haworth Hodgkinson is set against an abridged version of Haworth Hodgkinson's Dundee Ambient, Part 3: Summer Solstice, which was released in its full-length version as an album on the High Moss label in 2016.
Performers
Catriona Yule (voice)
Haworth Hodgkinson (recorders, keyboard, percussion, fixed media)
Mandy Macdonald (keyboard)
Colin Edwards (guitar, bowed psaltery, keyboard, percussion)
Margaret Christie (double bass)
Venue

Phoenix Centre • Newton Dee Village • Bieldside • ABERDEEN • AB15 5DX
Links