Enter 4: When the Shift hits the Fan
Music and Words for Midsummer
Tuesday 26 June 2018 • 7.15pm
Butchart Centre • University Road • ABERDEEN • AB24 3UT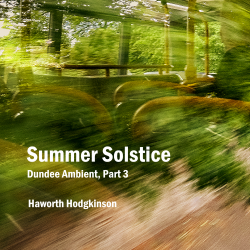 Admission free
Intuitive Music Aberdeen performs music and words for midsummer as part of an event hosted by the ensemble Shift-Enter.
Poetry by Catriona Yule, Mandy Macdonald and Haworth Hodgkinson is set against an abridged version of Haworth Hodgkinson's Dundee Ambient, Part 3: Summer Solstice, which was released in its full-length version as an album on the High Moss label in 2016.
This event also includes performances by Mark Dunsmore, Eimear Kinsella, Bea Dunsmore, Suk-Jun Kim and Bearsound.
Poems
Mandy Macdonald: Noctilucence
Haworth Hodgkinson: Seasonal
Catriona Yule: The Question
Catriona Yule: Sundial
Mandy Macdonald: Redcurrant Thief
Haworth Hodgkinson: Red Nocturne
Music
Haworth Hodgkinson: Summer Solstice (abridged) from Dundee Ambient
Performers
Catriona Yule (voice)
Mandy Macdonald (keyboard)
Colin Edwards (bass guitar)
Mark Spalding (melodica)
Haworth Hodgkinson (recorder, percussion, fixed media)
Venue

Butchart Centre • University Road • ABERDEEN • AB24 3UT
Links