Drostan's Calendar
World premiere performance of a piece by Haworth Hodgkinson
Friday 15 December 2017 • 7pm
St Mary's and St Peter's Church • Mid Links • MONTROSE • DD10 8HD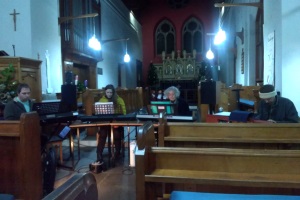 Photo by Nigel Lammas
Review by Mark Spalding
St Mary's and St Peter's Episcopal Church in Montrose was the fortunate and inspired choice of venue for the world premiere on the eponymous saint's day of Drostan's Calendar composed by Haworth Hodgkinson. The ensemble Intuitive Music Aberdeen (derived from Mars in Aquarius) were the fluent performers of this hour-long work by a composer who has recently released numerous albums of similar size and length of gestation.
The work is divided into twelve sections representing the months of the year: each section comprises a 5-minute recording of the sea at Drostan's Shore made in 2004; over this the four keyboardists improvise within given parameters, using one pitch (A sharp) in January up to the total chromatic in December. The overall impression to this listener was of a fascinating progress from individual notes and intervals to melodic fragments of pentatonic character, seamlessly developing through tonal polyphony through apparent polytonality (and polystylism!) into complex chromaticism against a varied background of marine sounds, including birdsong. All very fitting in a seaside town such as Montrose.
No doubt better acquaintance with the acoustics of the venue, not to mention more expensive technology, could have made things a bit better, but this was nevertheless a performance of conviction of a work that deserves at least several more performances.
Links
St Mary's and St Peter's Church, Montrose